Corporate Managed Residence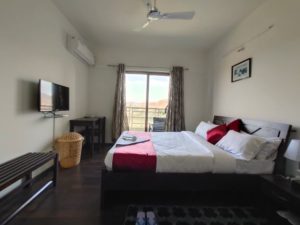 Customized Business Stay Solutions is the need of the hour for corporate. Live innovative has come out with the innovative concept of bringing ahead BAL model (Budget + Amenities + Location) which is a unique solution to the corporate which completely changed the concept of business stays with a focus on what a corporate want, rather than what conventional hospitality service providers had to offer. In effect, we give more customized solutions.
Corporate Managed Residence in Pune
At live Innovative, it's like Cheery picking what I want. We create business stay solutions for you in the location of your choice, at the budget you specify and with the list of amenities that you require.
We recognize and respond to your needs via our BAL Model (Budget + Amenities + Location) that focuses on your comfort, convenience, and cost-management.
Our BAL Model is unique and completely transparent: you pay exactly what you have opted for. We help you cut down on business stay cost, while our facilities and service standards exceed your expectations.
Corporate Managed Residences
With our BAL Model, you get: 
• We provide customized ready facility – dedicated to your company. This is done in consultation with you.
• We make the utmost effort to provide above with the most reasonable deal.
• We hand over a ready facility with an average turnaround time of 15-30 days.
How our BAL Model works: 
• We find the ideal property and lease it on the client's behalf once he has finalized the location.
• The client indicates the desired price points, amenities, choice of interiors, facilities, etc. We provide you with a ready list of choices. We create a facility exactly to those specifications.
• The client outsources all hospitality & facility management processes to us: we use our in-house talent pool to take care of everything; no outsourcing.
You can choose as per your company Guest House requirements.