Guest House Management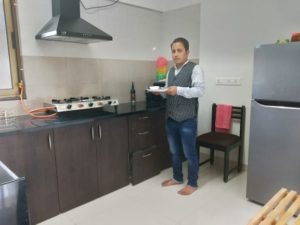 We at "LIVE INNOVATIVE" can provide you our knowledge and functional expertise to manage your company guest house.
The provided Guesthouse management services, care taking and housekeeping services for company guest houses in Pune India We work to ensure your guest's stay is supremely comfortable and rewarding, allowing you to focus on the things that matter most to you.
Our management of corporate guest houses focuses on all minute details, promising a comfortable stay and a delightful experience for the corporate guests. Our expertise covers every aspect of Guest House Management. We manage the care taking of company Guest Houses or Transit Houses round "O" clock with well-trained professional in-house cook and housekeeping personnel with quality food and housekeeping services with VIP standard.
Our housekeeping standards are the same, as you would find at any well-known hotel brand. When your employees are required to stay in a remote location, one of the most productive things you can do for them is to provide a good night's rest. We will following points.
Maintaining and improving the appearance of your guesthouse creates a good first impression on your guests and contributes to their enjoyment during the stay. Live Innovative Guest House Management Services in Pune, allow you to focus on more important matters like client acquisition and business development by taking care of your Kitchen, Maintenance and Housekeeping services. We give assurance of comfortable stay and delightful experience for your guests. Our professional staff from housekeeping and pantry section available round o' clock to fulfill requirement & needs of guests.
Guest House Management Services
Live Innovative  trained the staff for proper maintenance of Company Guest Houses. All Staff members are trained in handling of care-taking, housekeeping and pantry services In Pune for comfortable stay.
Guest House Management Services:
Entire management of the guest house
Preparation and serving of all meals.
Ensuring hygienic and safety.
Serve properly.
Taking suggestion and feedback from Guest/Customer.
Maintaining proper record of the Guest.
Setting up of entire guest house, which includes Meal Facility, Laundry Service & other Utility Services.
Maintenance and cleaning of Guest House with chemicals for hygiene.