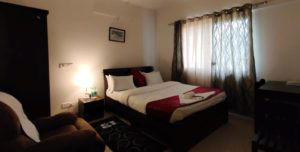 Business Apartments in Pune
Business service apartments in Pune, ideal for long stays
Live Innovative Service Apartments, situated in the buzzing heart of Pune – known as Pune City offer exactly what you would imagine. Offering business apartments in these business service apartments. The building was opened as recently as 2014 after undergoing an extensive refurbishment to offer a fresh and more business experience. It now mirrors the sophistication, style and charm of the surrounding area.
Just a short walk from your front door you will find of some of the best shopping on Pune.  As well as being known for its excellent theatres. The Pune City area is also famed for its restaurants and culinary offerings with a vast variety of international cuisine, from fine dining to noodle bars.
Business Service Apartments in Pune
These Business service apartments in Pune offer 1 bedroom,  2 bedroom and 3 bedroom suites. With contemporary interiors that are vibrant yet tasteful. The kitchens are sleek, ultra-modern and come fully equipped to satisfy your inner chef. The bathrooms are some of the most stylish you will find and no matter if you book a 1 bedroom, 2-bedroom or 3-bedroom apartment, there is ample space for the business  traveler.
Amenities at Business Apartments
You will be greeted on arrival by the team who work off-site but are always on-hand to make sure you are taken care of if you need to ask any questions. Also, these business service apartments come with a personal concierge service that gives an insider's perspective to what are the best options for you during your stay. There is a weekly maid service with full linen change with additional cleans available upon request (at additional cost). Every detail has been carefully thought-out and ensures an amazing stay in Pune.
IDEAL BUSINESS TRAVEL ACCOMMODATION OPTION?
When it comes down to picking the perfect accommodation for business travelers; no alternative compares to serviced apartments. Space, comfort, and value for money are all considered 'part of the furniture' in serviced accommodation; all essential features able to improve your experience and better the offer of a standard business hotel.
Service apartments for business travelers include the following facilities and services;
Wi-Fi and Internet connection access
TVs
Laundry facilities (Washing machine and Dryer)
Linen and Towels
Housekeeping Service (Ranging from daily to fortnightly)
Available Parking
As well as these expectations, business travelers on the move should assume that they will be offered a bespoke product and service that suits what they need to cater to their business travel management.